Best Bar in Wrigley! Bernie's Tap & Grill is family owned and operated since 1954. Located across from Wrigley Field (on Clark and Waveland) Bernie's invites a lively atmosphere for Cubs fans to meet with friends and family before and after home games and events. All other times you will find the relaxed yet fun atmosphere of a Chicago neighborhood pub in the heart of Wrigleyville. Great food, amazing staff, 4 full service bars on 2 floors, free shuffleboard, sidewalk patio cafe, and beer garden. Come on by and watch your 2016 World Champion Chicago Cubs. Go Cubs!
THE BEER IS ALWAYS COLD, THE FOOD IS FANTASTIC, AND THE SERVICE IS IMPECCABLE. OTHER THAN WRIGLEY FIELD, YOU COULDN'T ASK FOR A BETTER ATMOSPHERE!
- Kass Dobrinich
ALWAYS FRIENDLY, GREAT FOOD, GREAT SERVICE. LOVE SITTING OUTSIDE WHEN WE CAN.
- Ron Adair
LOVE THIS PLACE!! MEMORIES OF HANGING OUT HERE BEFORE AND AFTER CUBS GAMES FOR AS LONG AS I CAN REMEMBER.
- Taylor Pettis
I HAVE BEEN GOING TO BERNIE'S SINCE OPENING DAY OF 1988. IT'S ONE OF MY FAVORITE PLACES IN WRIGLEYVILLE!
- Steve Kirk
Private Parties & Events
BOOK YOUR NEXT EVENT
BIRTHDAYS • CORPORATE EVENTS • FANTASY DRAFTS • ENGAGEMENT PARTIES • REUNIONS
– Book your wristband event at Bernie's and you and a guest may be admitted at no charge.
– Several Liquor Packages to choose from
– Food Packages range from an additional $8- $10 per person
– Ask about renting out the back bar, beer garden, sidewalk café, or our second level.
– Bernie's can accommodate up to 300 guests on two levels Non Game days.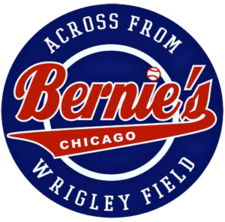 3664 North Clark Street
Chicago, IL 60613
773-525-1898
CALL US NOW
GET DIRECTIONS
OPEN ALL CUBS HOME GAMES
MONDAY: Closed
TUESDAY: 3pm – 11pm
WEDNESDAY: 3pm – 11pm
THURSDAY: 11am – 3pm
FRIDAY: 11am – 11pm
SATURDAY: 11am – 11pm
SUNDAY: 11am – 11pm
QUESTIONS? COMMENTS? LET US KNOW!